This article is a wrap-up of what happened on TomRoelandts.com in 2018.
The major post of 2018 was probably the two-part tutorial on the ASTRA Toolbox, Reconstruction from Projection Images, Part 1 and Reconstruction from Projection Images, Part 2. Writing that tutorial reminded me again that explaining something is more work and more difficult than doing it… This post was inspired by the many questions on Do Not Ignore the ASTRA Toolbox!. I hope it helps some people!
As far as the popularity of the individual posts is concerned, the first few places are still taken by the articles on filter design. This includes both How to Create a Simple Low-Pass Filter and How to Create a Simple High-Pass Filter, and the article on the Low-Pass Single-Pole IIR Filter. The popularity of those articles is also clear from the many questions that people ask in the comments (mostly on the low-pass filter article, which is the one that explains the basics of windowed-sinc filters).
Another article that stays remarkably popular is Gaussian Noise is Added, Poisson Noise is Applied. From the ones that I've added this year, How to Create Animated GIFs with Python is quite popular. This article seems to have filled a gap.
I'll leave you with my best wishes for a very happy 2019, and with a copy of the front side of the (paper) greeting card that we've sent to our family and friends for the new year: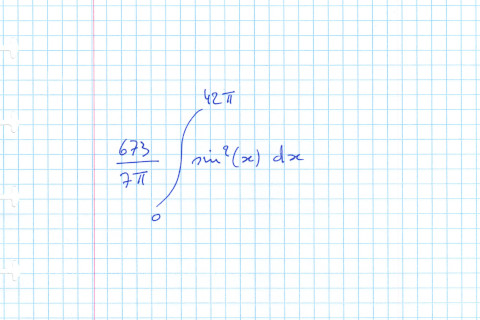 Mystery integral.
I'm not sure how many people did the computation (if you want to give it a try, you could do some Symbolic Math in Python), but we do have some nerdy friends… I suppose that you get the friends that you deserve… ☺